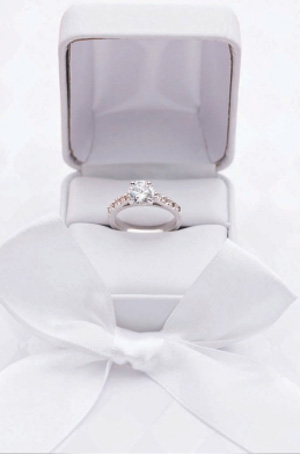 No, I am not talking about diamond rings and bridal showers.

By BETH RYERSE, RDH
Published in Dental Practice Management June, 2009
A warm and compassionate DDS whom I worked with in my early years as a dental hygienist, lived and practiced by the mantra, "I don't care how much you know, until I know how much you care." That has proven to be a very good guide during my years in the dental hygiene profession and life in general.
In light of current economic struggles, it is more important than ever to be offering the services that patients are most interested in and have the programs in place to be able to provide those services efficiently and effectively. We need to be doing something different and portraying that we have the patient's best interest at heart. It is important to acknowledge that patients may be struggling financially and communicate that we are committed to providing the best, conservative care to raise and/or maintain their level of oral health. That understanding will have an impact on their overall health and maintaining that saves them from greater financial investment in the future. It is our professional responsibility to have a full periodontal chart on every patient on an annual basis. The day is long past when we would 'watch' periodontal disease until it was advanced enough to send the patient to the periodontist. Conservative, non-surgical periodontal therapy may be the part of the answer to the question surrounding surviving the economic climate.
Starting with the periodontal assessment, it is essential that the patient is involved from the very beginning. Explain what the numbers representing the depths of the pockets mean, in language that the patient can understand. Use the analogy of, "your tooth is like a neck in a turtleneck sweater, there is a natural space there and that is what I will be measuring with this ruler (probe)." Have the patient watch the examination in a hand mirror. Let them see the difference between an area of health and one of disease. "See how far down the ruler goes, see the areas that are bleeding, see the pus?" (Don't say exudate, it may seem more polite but the patient doesn't know what you are talking about.) Have them raise their left hand if there is tenderness while probing. "Please raise your hand if I get into an area that is particularly 'ouchy,' we will make a note of that and it helps us to further evaluate the health of your tissues." Now the patient is very involved in this examination, listening, watching, raising their hand, and they are learning! If they do not see the disease, they will not own it and if they do not own it, they will not do anything different about it, they expect us to 'fix' them and we can't. Not without their help.
That is why it is so important to have readily available in the office what you recommend for disease control at home. Make it easier for patients to comply and show them that you care about providing the best of what is available to raise their level of oral health. Everyone is busy. Sending the patient to the drugstore with a list of oral hygiene aids to pick up doesn't work and the office can usually get a better price than retail for products, anyway. Having quality, effective products included in the total fee for the therapy program, shows that a homecare regimen is an integral part of disease control.
Based on the results of the periodontal assessment, there must be a therapy program established within the office to competently address each level of early to moderate disease. Present this to the patient from the perspective of saving time, discomfort and money. "Mr. Brown, the gum disease that you have is progressive. As time goes on, it will become more difficult, more uncomfortable and more costly to treat."
The individual therapy plans should address:
1. Gingivitis,
2. Chronic Periodontitis, Generalized, Slight
3. Chronic Periodontitis, Generalized Moderate
These plans need to include:
- An appropriate number of debridement units in one to four appointments (depending on the severity of the disease),
- Periodontal irrigation (subgingival)
- Instruction with suitable, current products that ensure better oral hygiene,
- Products dispensed from the office to ensure compliance
- Re-evaluation appointment
- Scheduling Supportive Maintenance Therapy appointments
This type of therapy creates educated, involved, loyal -to-you and very often, grateful patients who are far more motivated to take part in other wonderful services that you provide.
Dental hygienists are kind, caring producers. We are gifted multi-taskers who can assess, plan, motivate, appease, reassure, educate and monitor client comfort levels while completing a thorough debridement and evaluating outcomes. This type of therapy is what we were trained to do and what we want to do. We are passionate about the health of our clients. Unfortunately, some of that passion can be lost in a recall program that becomes stagnant and does not allow for thorough, timely re-assessment that leads to appropriate therapy. It takes the entire team to support this therapy and as hygiene production increases, that needs to be shared by all.
Creating and maintaining a well-functioning team requires superb communication. This therapy message must be understood by all and everyone must be able to verbalize the need for treatment and the value of the services. An effort must be made to have everyone 'singing from the same page.' This takes practice and commitment to a common goal that will benefit the patient and the practice.
If your patient were asked to refer someone new in their neighbourhood to a dental office, would it be yours? An engaged patient is a happy patient. Happy, enthusiastic patients, refer other patients. This allows the caring, compassionate practice to not only survive, but to flourish.
Beth Ryerse is the Educational Director at rdhu, The Advanced Dental Hygiene Continuing Education Centre. She also lectures across Canada and the United States on current standards of quality care. Beth has fulfilled positions on the boards of: H&DDHS -- Hamilton and District Dental Hygienists Society and CAPS -- Canadian Assoc. of Professional Speakers and has participated in media sessions including professional publication interviews, Health and Body segment on CHCH TV and DVD Quarterly.

View the publication here
Digital Edition: http://issuu.com/glaciermedia/docs/dpm2009summer/27?e=0